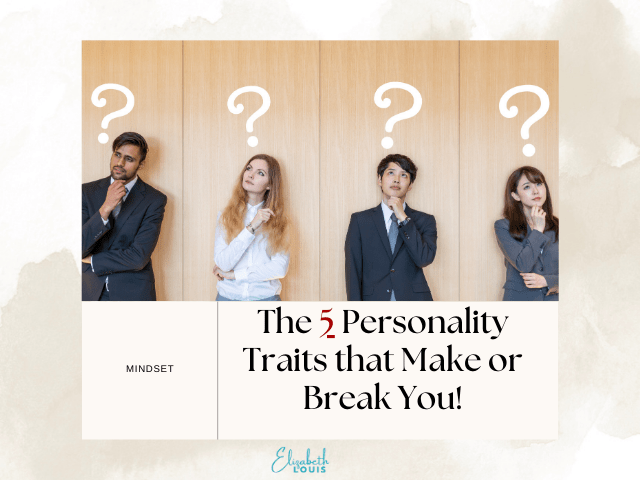 Personality is anything but straightforward. Besides, we each LITERALLY see things from different perspectives, which only complicates things more.
One personality trait is never the most significant influencer in a situation. Instead, our personality traits work together in subtle ways. Psychologists have identified 5 personality traits that have a HUGE impact on your ability to achieve success. 
First off, let's clarify personality. Here are some fun facts:
Personality is the combination of characteristics that form an individual's distinctive character – it's the traits that make you, you! The truth is depending on the personality theory you are leveraging will alter the definition of personality and the traits that influence it.
By the time you are ten months old, you begin expressing your personality.
Your personality is only half inherited, and the rest results from your experiences.
Your brain is like clay being molded by experiences, and depending on your big five, you'll go specific ways.   
What are the 5 Personality Traits that influence you to be successful?
Therapists use the acronym OCEAN.
Take the Performance Development Assessment to learn if you have High or Low Psychometric Traits in these areas.
1. Openness: is being open-minded, leveraging creativity, and being original. When you have a high openness score, you are willing to try new things, are more vulnerable, and think more expansively. 
The Performance Development Traits are:
High Creativity
High Boldness
High Tough Mindedness
Moderate to High score in Sociability 
Fun Fact: The more open-minded you are, the more likely you are to be optimistic, which means you are more likely to find opportunities.
2. Conscientiousness: is when you place a premium on being reliable, dependable, and following rules. The benefit to this trait is one is more likely to practice delayed gratification and make wiser decisions.
The Performance Development Traits are:
High Conscientiousness 
Moderate to High Trust 
Moderate to High Nurturance
High Control
High Composure
Moderate to High Tough Mindedness
High Ambition
High Endurance
Moderate to High Assertiveness
Fun fact: Conscientious people live longer!
3. Extroversion: is where you are motivated to seek out positive stimuli, verbally process your emotions, pains, and thoughts with people, and are energized by people. Extroversion can look different if you have high autonomy or are task-oriented.
The Performance Development Traits are:
Moderate to High Sociability
Moderate to High Recognition
Moderate to High Exhibition 
Moderate Trust
Moderate to High Tough Mindedness
Fun fact: Marriage makes you less extroverted. 
4. Agreeable: is to be pleasant and go along with people. This trait can make or break you in your career, depending on your position. For instance, we wouldn't want a very agreeable lawyer.
The Performance Development Traits are:
High Trust
Low to Moderate Assertiveness
Low to Moderate Boldness 
Low to Moderate Ambition
High Flexibility
Fun fact: Agreeable people make less money!
5. Neuroticism: is being confident and comfortable in your own skin. The more neurotic you are, the more sensitive you are, and the more likely you will see negative things. The ideal score is to have a lower score.
The Performance Development Traits: (if you have these scores, you have low neuroticism).
High Self-Confidence
High Responsibility 
Moderate to High Composure
Moderate to High Tough Mindedness
Moderate to High Control 
High Boldness
High Assertiveness